After hundreds of intro-calls, client meetings and sales cases, each of us start to notice patterns that help us improve our performance while being out of the comfort zone. Some of these patterns make us better with conducting our work and increase our ability to find and bring in new business.
I've had a chance to talk with a lot of talented people and ask countless sales professionals to share their tips and experiences on how to deal with challenges that revolve around sales as a profession. In this first post of the series though, I will write a couple of my own practical realizations that I have found to help me improve the sales interactions with my clients.
These are by far not the fundamentals that have to be in place to perform sales efficiently, but rather small and practical tips that are easy to start using straight away. Some of these may be worth a try... See if they can help you with your daily work and have a positive impact on your business.
1. Great view and a wider posture seem to improve the confidence
When conducting outbound efforts, before getting into the flow, the first couple of cold calls to new prospects can feel daunting. The phone tends to turn heavier the more uncomfortable we feel. When calling, we need to sound positive and confident, as well as set the correct tone for the conversation (more on this later down in this post).
I myself welcome any practical tips that can make me more confident with conducting the initial outreach.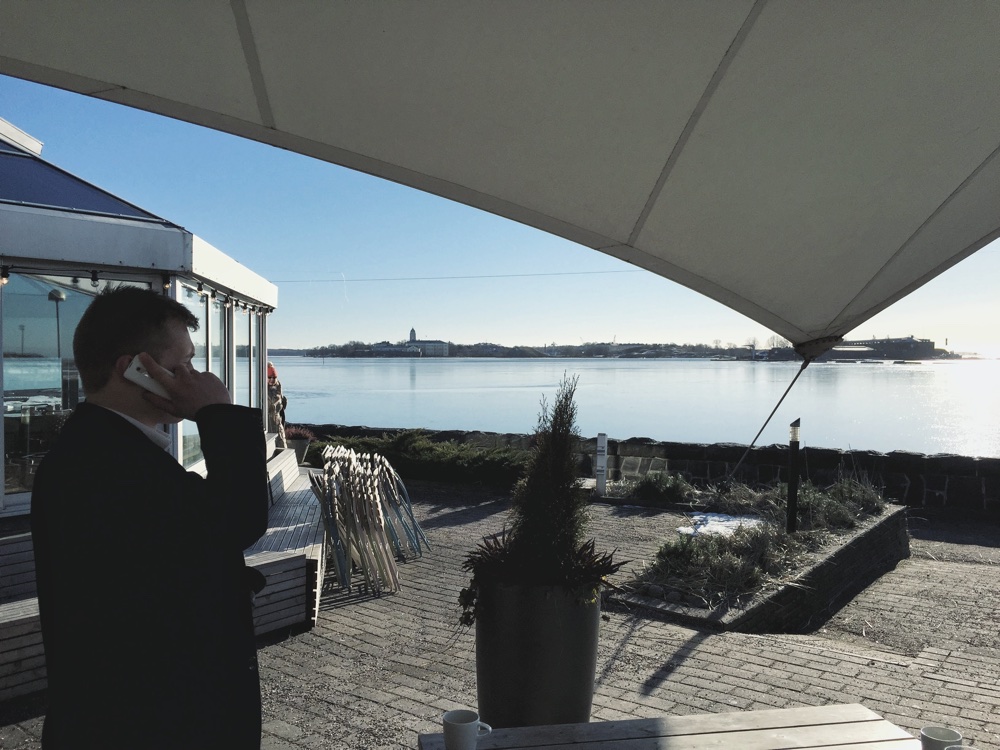 While calling I have noticed that my voice tends to become calmer when I sit in a comfortable chair, or stand with a wider posture. The voice seems to then come across more confident to the person whom I speak with. It is more of a psychological trick that helps to make the conversation between the two parties equal no matter the role or authority.
What really improves the experience for me though is to have a beautiful view, preferably high up in a building... It really elevates the feeling of self-importance and affirms me that I'm not about to waste someones' time.
Standing up or sitting in a comfortable chair, while having a couple of notes and a call plan for things to be discussed, adding in a beautiful view out of a window, bring me some of the warmest memories in my career so far.
The initial call can be the reason to continue conversations going forward or crash and burn the whole case. You are the person to whom it is worth giving two minutes and spend a short while listening for what you have to say. Sometimes confidence is the key.
2. Working together with and not against my clients
As the case proceeds and the relationship begins establishing, I have noticed that such a simple thing as sitting on the same side of a table, or in a 90-degree angle as compared to opposing each other directly, helps to build better rapport with the client.
When I have something to present, or I bring documents with me, I tend to sit on the same side of the table, or at a small angle while going through the material together. This often creates an environment of mutual cooperation and better understanding to solve the common challenges at hand.
It must have something to do with how we are psychologically wired, but sitting against each other can often bring up subconscious feeling of hostility, interview-like discomfort, and some sort of unnecessary pressure.
Now of course, in the beginning, or during the first few initial meetings, sitting directly in front of each other is most often the way to go, especially in lower-context cultures. Going forward, as the relationship keeps forming, relaying the impression of being on the same side with your customer can result in more productive outcomes.
Depending on context, the added grain of intimacy has helped me to effectively communicate with my clients and establish a good correspondence while also bringing improved results.
Have you tried this yourself?
3. Being open with my intentions and setting the tone
Sometimes it may come to your mind that it is a good idea to leave unmentioned, or hide the aspect from your clients or prospects, that you work in a sales role. Based on my experience so far, I dont consider this approach worth taking.
While introducing myself, I don't worry about telling that I'm responsible for sales within my organisation. It is then everything else that I put out during introduction that corrects the often negative impression of yet another salesperson getting in touch with the prospect. It is these additional things that I say which matter the most.
Depending on the case at hand, I usually emphasize that I'm also a hands-on professional with a wider experience in the topic. I can often generalize that the reasons regarding which I'm getting in touch have been some of those challenges that we've also been successfully solving with other clients. As such my approach can be very analytical way before the initial call actually happens.
By setting the tone, I mean being open about my intentions without trying to unnecessarily hide things from the person that I'm talking with (a salesperson often means that his/her goal is to make money...). If we are not open with what we do, such as aim at a mutually beneficial sale, later down the road the prospect can get surprised and frustrated. In that case the effort up until that moment has mostly turned out to be a waste of both people's time.
What about being proud and honest about what you do?