Excellent engineering, world-class teams, great user experiences and business models that work while making the internet a better place. There is something we can learn from each of these internet success stories and this time I would like to share some of the ones that are closest to my heart.
This month I thought to write a short post about some of the internet businesses that produce services and tools that I use very often and highlight at least one great thing in each one of them.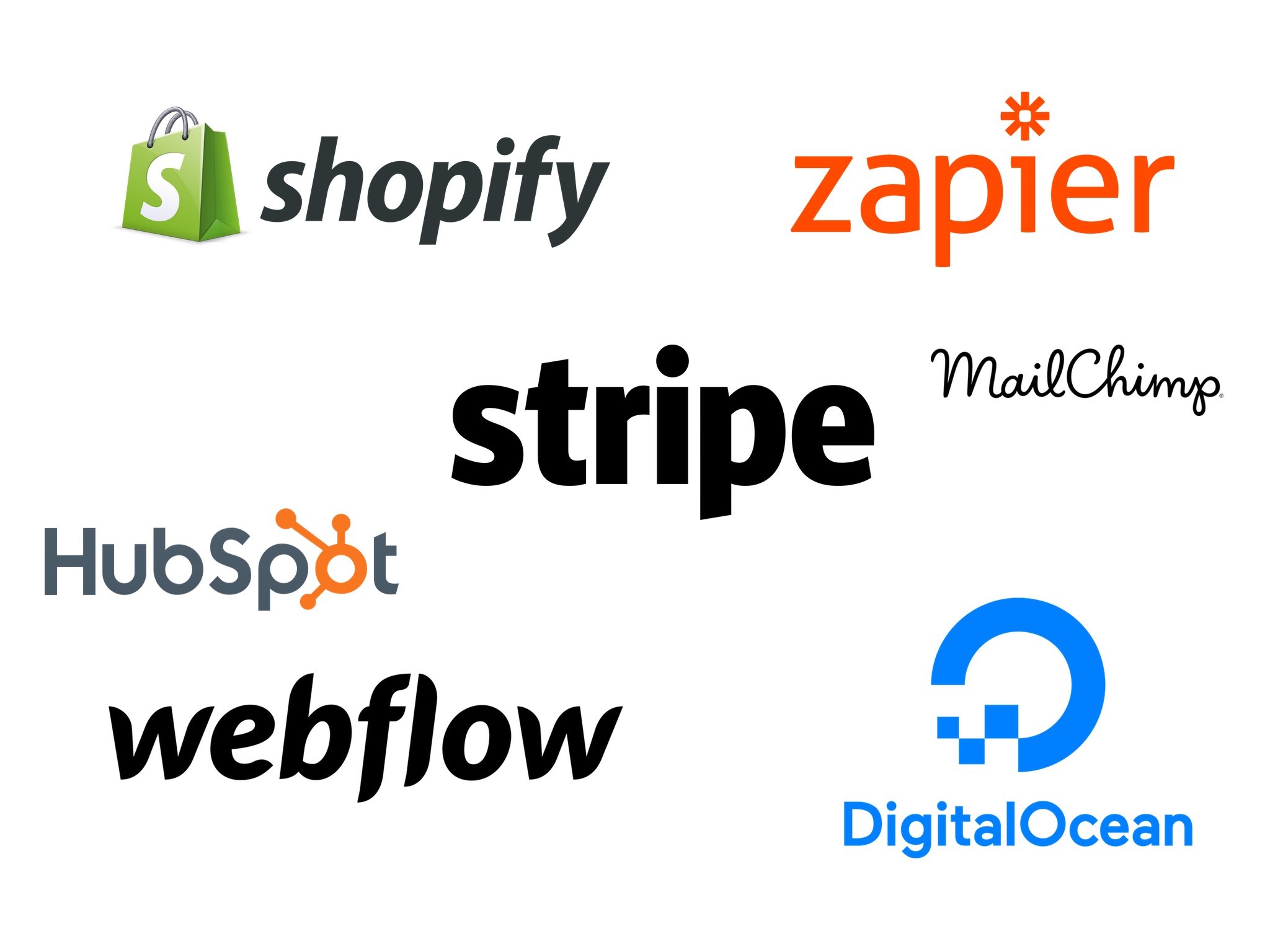 I want to make clear that these are my own opinions, and I'm also completely open to new products and services if you have any in your mind! In addition, if you want to share your opinions I invite you to write a comment below this post!
Without further intoductions, let's get started on the seven companies that I admire and use a lot on a weekly basis.
MailChimp - The go-to first choice for email marketing automation.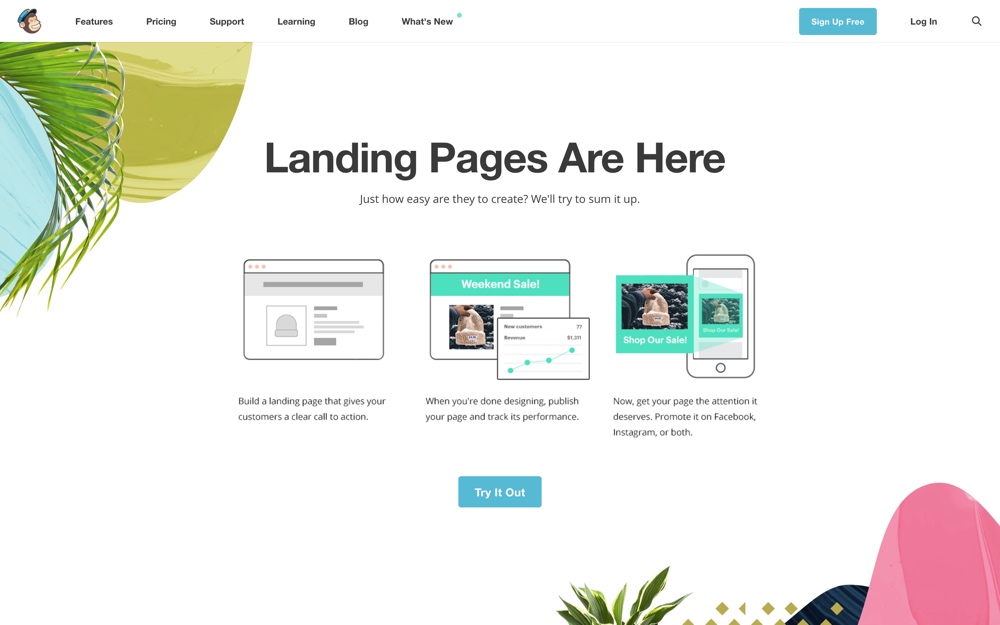 I have come across a couple of smaller companies asking me how to make their businesses look bigger and more serious online... Well, in my opinion one of the easiest ways tool-wise is to add some simple and easy-going marketing automation to some of the processes within the company.
MailChimp is great for just that. Anyone can easily set-up automated mailing campaigns, react to customers signing up/signing off on orders, foster powerful e-mail engagement and build a loyal follower-base without needing to do a lot of manual work after the initial setup.
Setting up and integrating Mailchimp into a website is incredibly simple even to a non-technical person. If you want to start having even better integrations, it is all possible as developers have access to an extremely well documented Mailchimp API.
The free plan includes e-mail lists that you can populate to include up to 2 000 subscribers and send 12 000 e-mails per month. It is easy to then convert into a paid plan that starts at USD 10$ per month for additional capacity.
It is worth mentioning that the free plan also comes with a MailChimp watermark on the bottom of outgoing emails that you can easily get rid of after introducing your credit card. It's a great modern business model that works.
DigitalOcean - Simple IT infrastructure targeted for individual developers and small teams.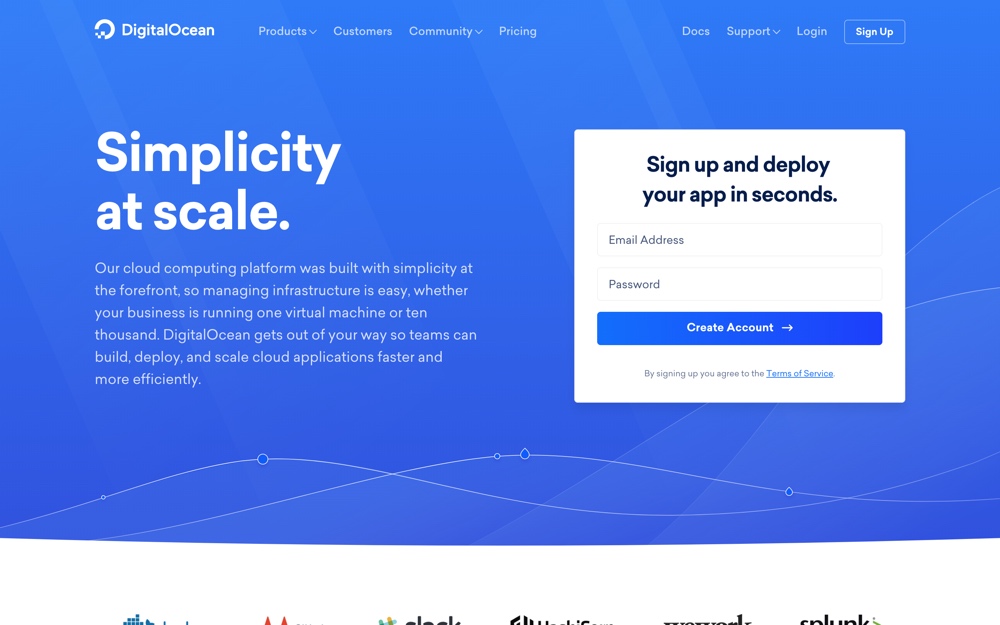 DigitalOcean is a great alternative to the other cloud juggernauts by being aimed from the get-go for developers. And that is great. Even the Lost Book of Sales blog runs on DigitalOcean's infrastructure and the customers vary from single-developers to huge multinational teams.
It makes developer's lives so much easier with a simple interface and a cheaper plan by involving lowest-cost instances in the industry that start just at USD 5$ a month.
The performant VM's are located globally and offer extremely simple provisioning, low-entry point into cloud-computing and a great online knowledgebase. If you go by the book of how to grow your business and establish yourself as a leader in your market, DigitalOcean does it just right by offering extremely comprehensive and simple but detailed tutorials, forums, as well as a knowledge sharing platform for developers.
DigitalOcean didn't have to but invested and established themselves as a leader amongst us by setting up and providing so powerful, helpful and uniquely likeable content that I conquer you to consider if your business would benefit from such an approach towards your customers.
Webflow - Web design in a visual manner without compromise in functionality.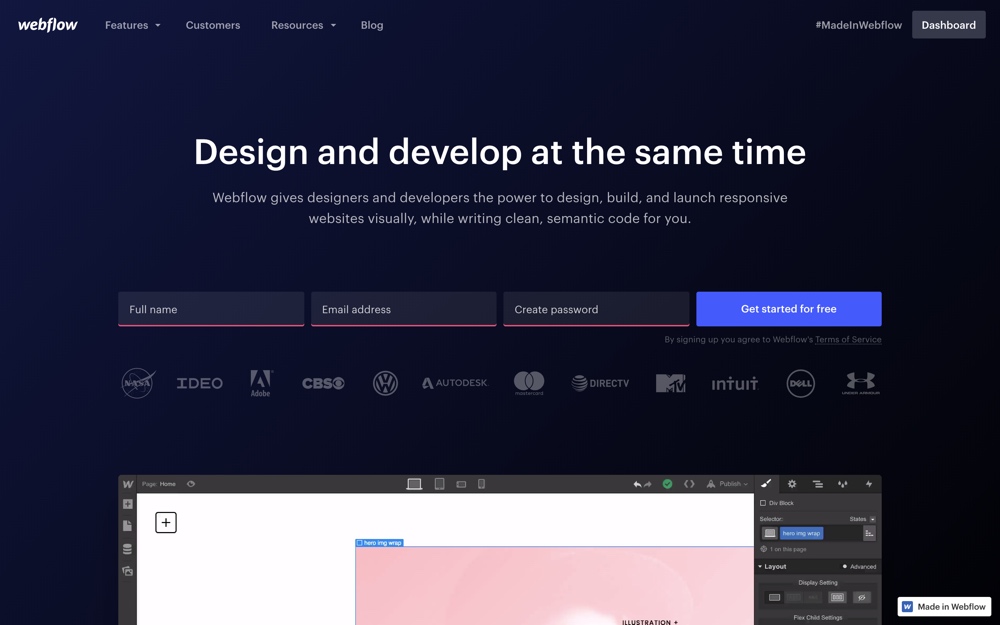 Webflow is a great tool for people who want to design powerful websites and are already familiar with the basics of HTML and CSS. Webflow's content marketing, community as well as the top-notch developer team are top of the crop, period. What I would like to point out about Webflow here though is something that each and every online business should consider very seriously when aiming for success.
I'm talking about the feedback loop, building the product according to what customers want the most and improving/iterating based on community feedback. Webflow's customers are some of the most loyal and passionate about the company's product that I have seen in the industry.
I think a big chunk of the success in this regard stems from the introduction of their online wishlist forum where users can post and upvote the features that they want the most. Webflow's team then considers these ideas, puts them in a backlog, mentions their intentions about adding it to the product in the future, or mark it as being under development if that is the case.
Users feel like they are being listened to, Webflow ends up implementing the most feasible aspects that the community feels are most important and the product keeps gaining popularity while addressing all of the most actual shortcomings. Webflow iterates the product quickly, implements lean and agile methodologies based on the requirements from their customers, and continues its march towards success.
Now I hope they would finally add that multi-language functionality so that Webflow's path towards world-domination would be well on its way. What do you think about such an approach by the team?
Stripe - Complex world of online payments simplified and optimized for developer experience.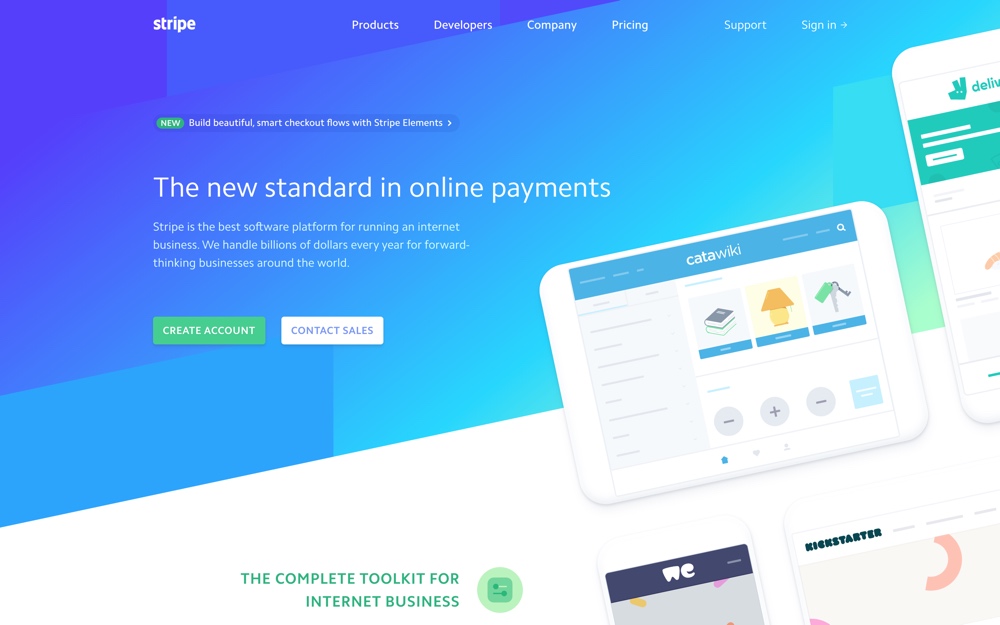 By now everyone knows Stripe. What I want to mention here is that they are the global, world-wide benchmark in design. Web-designers everywhere look up to Stripe and their website. No matter who you talk to in the industry, everyone is well-aware that Stripe employs some of the the best, most forward looking web-design teams out there.
I believe stripe is re-writing some of the layout to already take use of the recently introduced CSS Grid pattern.
Design can be an important aspect for your business and Stripe proves just that. Great things comes out of innovative, simple to use, and impressive web-design bringing in additional industry recognition.
A great point worth mentioning about Stripe (as opposed to PayPal) is that their developer-documentation is top notch and it is being updated constantly while non-actual parts are being depracated and taken away at an incredbly timely pace.
Design. It does matter...
Zapier - Custom integrations between any of the apps that you use.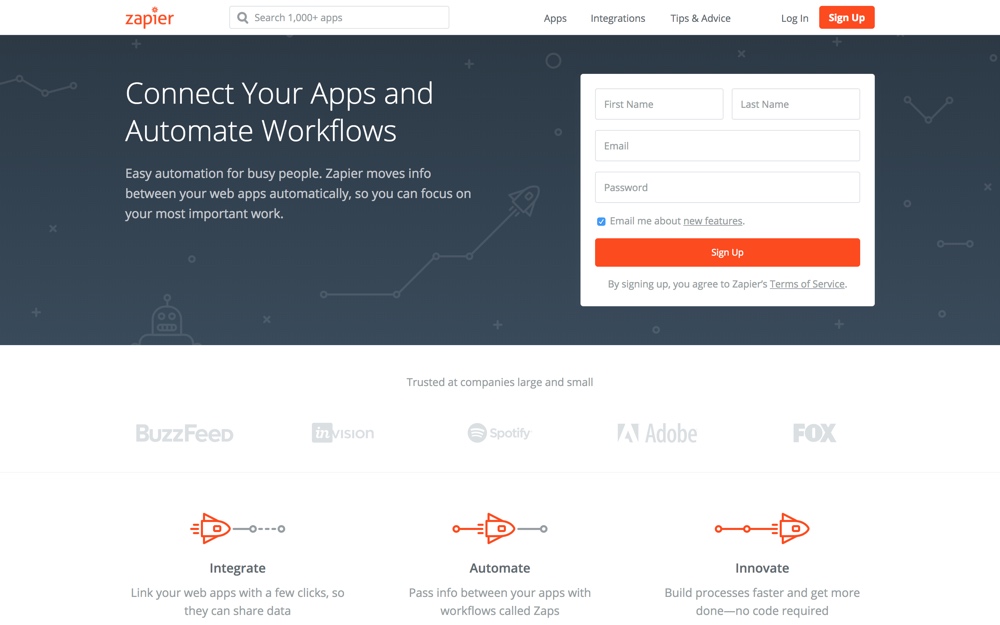 Zapier was a great idea along with the footsteps of IFTTT. You can integrate and automate so many little painstaking things in your business with the use of Zapier all while not knowing a single bit about how to code.
What is most commendable about Zapier's approach though is the marketplace of integrations to which companies and individuals can add integrations that they themselves find useful.
Just try integrating your Google Sheets to be automatically populated by form responses from your website or integrate your social media accounts. Quickly you will realize the power of Zapier in automating the tedious and repetitive tasks that might have earlier taken hours from your weekly-schedule.
HubSpot - Sales and marketing thought leadership online while providing a freemium CRM for small business.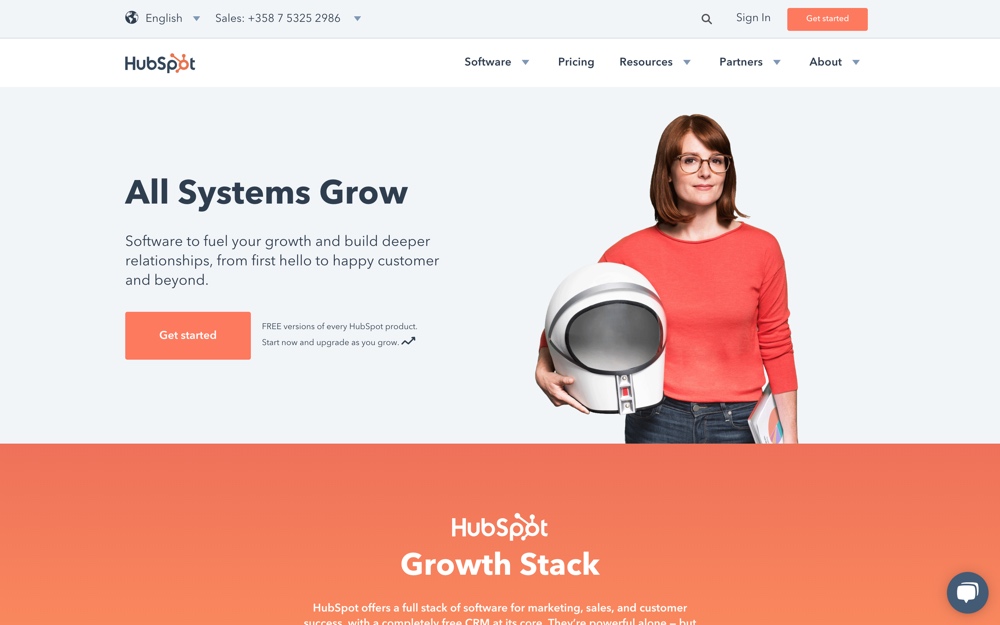 Hubspot is a trusted CRM and inbound marketing platform that is easy to get started with and expand as the business grows. Their thought-leadership in the industry is virtually unmatched.
HubSpot is trusted due to amazing content marketing that the company is doing for itself and what I really want to point out are the certifications/courses that they provide for aspiring online marketing professionals.
Myself being holder of two such free-of-charge certifications I can tell you that they can be a great value-add to anyone's CV. You essentially show people how to do things with best-practices and insightful information after which provide the tools that let customers achieve their goals. Eventually customers grow and start paying more money that generates revenue for the business.
Same goes for HubSpot's global partner network and that is something to consider business-wise.
Could your business benefit of certified implementation partners and resellers?
Shopify - Online shopping platform with acceptable rates, ultimate ease of use and customization.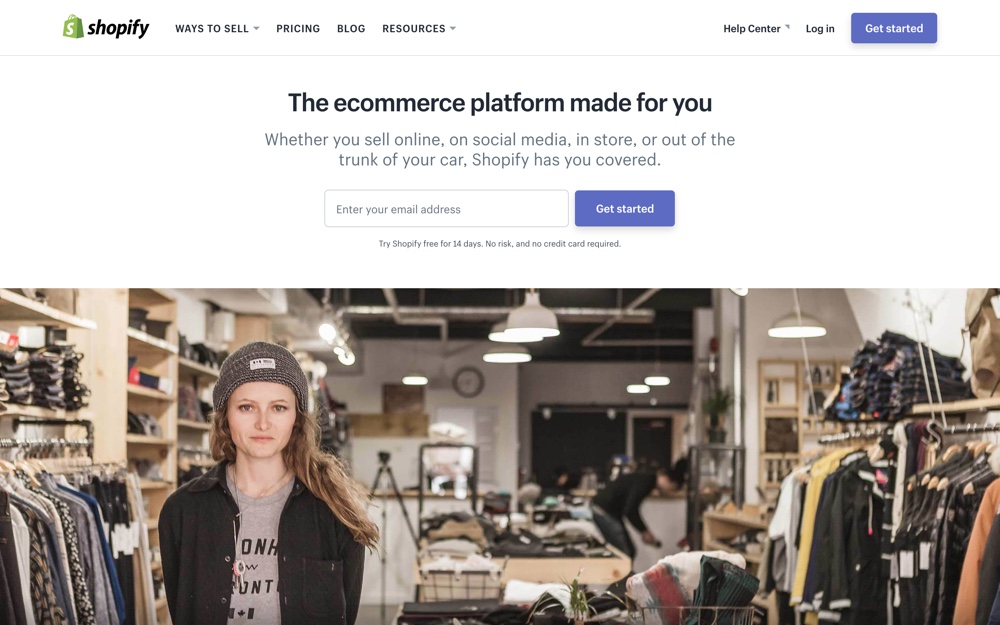 I think Shopify's mission has been a great news for small businesses. Huge goliaths like Amazon and AliExpress are sweeping the markets and it is tough for small business to compete.
It is also often overwhelming for small business owners to set up and start selling via an online store. Shopify makes it easy in a way that can be considered fair and simple all the while offering capabilities that even huge companies are finding difficult to implement on their expensive tailor-built e-commerce platforms
A great tool for making a simple HTML5 website into an easily manageable e-commerce platform would also be Shopify's competitor Snipcart, but it does require a bit of web-development expertise. I love the tool and these two products are often the foundation of my e-commerce projects.
Are you a web developer that wants to go the completely custom route? There is a great open-source project maintained and built by the Reaction Commerce team that involves end-to-end fullstack JavaScript. It is worth checking out. Reaction has been gaining lots of ground and might be worth considering for a more complex e-commerce project. I've been following the team for a couple of years now and it has evolved beyond belief.
Bonus: Three high-quality websites that I use for free stock images
Stock imagery is important for any project.
Here are three sites that I use all the time myself. You are free to use and modify these pictures to your hearts extent but don't overdo it as nothing kills a great website quite like a tasteless, completely unrelated bunch of stock photos (been there done that).
*Drop a comment below if you found this post interesting.